Ask The Expert

What is that strange object in the sky you ask?
If it resembles a plastic bird or a small helicopter buzzing overhead—chances are it is a drone!
Defined by Wikipedia, drones are unmanned aircraft or spaceships that are guided remotely.
There is no doubt that these funky looking flying machines are becoming quite popular!
Many drones are equipped with super high-tech cameras and have capability of traveling up to 100 mph.
In recent years, they've become among the most advanced devices in our electronic, aeronautics and robotic world.
The applications are many— and their uses virtually endless.
From search and rescue operations, commercial and industrial construction projects and inspections, mapping and mining applications, entertainment and light shows, sports and recreation photography, power line, road and sensory inspections, military applications, agriculture and farming, motion picture movies and wedding/party aerial photography, border patrol operations and more, drones now enable our world to photograph and accomplish projects never before thought possible.
SM Direct took time out to get a sneak peak about some of the interesting and important things to know about drones from local drone expert, John Phillips, owner of A One Drone Imaging, Inc. in Rockledge and freelance photographer for Select Magazines. His business is selling, repairing and teaching folks how to fly drones, as well as offering aerial photography for multi-purpose entertainment events.
Where is your business based? How do you market and promote your drone sales and services?
Answer: I have a booth at the Rennigers' Flea Market off Eau Gallie Blvd. in Melbourne where I sell many makes and models, including DJI Inspire I and II, Mavic Pros, Yuneec, Spark and more. I also sell accessories and give lessons. I promote my business through my website, A One Drone Imaging as well.
How much do your drones sell for?
Answer: Prices range from $200 for small drones, to $3,500 for high-end DJI Inspire drones with zoom cameras. Drones that are used for power line inspections, road and rail construction or military and thermo imaging purposes can sell for up to $25,000 or more. The camera makes the difference.
Does one need a license to operate a drone?
Answer: For commercial use to fly a small un-manned aircraft a license is necessary. For private use only a registration fee of $10 is required.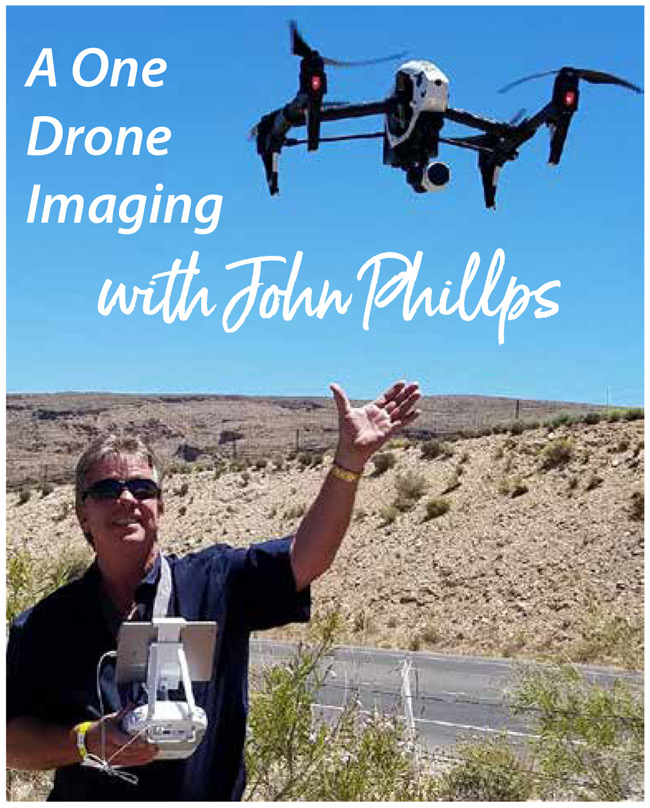 What is the average distance and flight time of a drone?
Answer: The average flight time is around 25 minutes, depending on it's size and the battery. The range varies, but is about a mile.
What accessories are necessary to navigate a drone?
Answer: A remote control, I-pad or smart phone device.
What are drones constructed of?
Answer: For the most part, they are made of carbon fiber tubing and plastics with intricate circuit boards that connect wireless to the navigation software. Special firmware, as it is called, is downloaded into the drone that controls the GPS and such.
How easy is it to learn how to fly a drone?
Answer: It takes about 30 minutes for me to teach individuals how to fly a drone. It is controlled by a wireless remote device so it must be connected and set up accordingly. It's best to learn in an open-air field where there is little vegetation, buildings or trees.
In the event the drone is crashed, can it be repaired?
Answer: Yes, if the correct parts are found. It depends on the severity of the crash. Many times it is an arm or leg that becomes damaged, or one of the propellers. Sometimes the landing gear needs adjustments or repair, which involves re-wiring, etc. If a camera is damaged, a new one can probably be installed in many cases.
What do you charge for instruction and to film special events?
Answer: It depends on the time and location. Prices for instruction are free if a customer purchases a drone from me. Otherwise, average cost is $50.00 for roughly an hour of instruction.