Footgolf Comes to Duran Golf Club

Known as soccer golf and played on a golf course, this hybrid game that combines soccer and traditional golf is the newest addition to Viera's Duran Academy of Golf.
Called Footgolf—the game is played with a soccer ball and is one that can be enjoyed by participants of any age.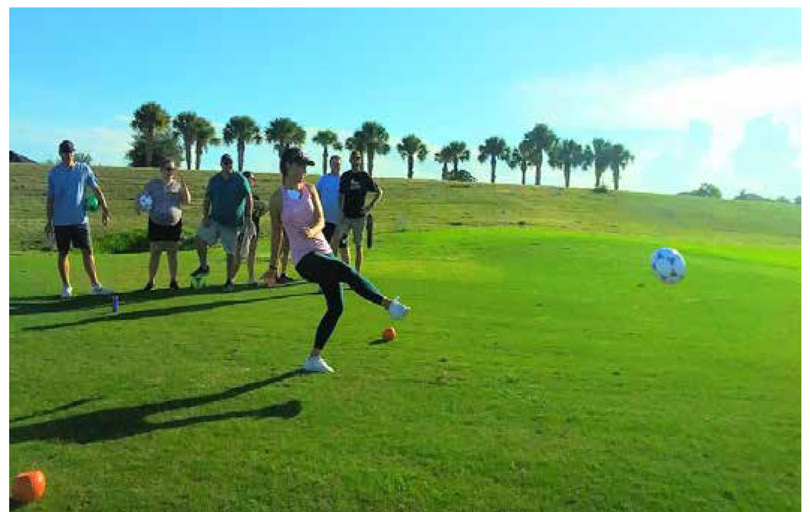 The game takes about 90 minutes and begins from a set of tee markers where the ball is kicked towards the enlarged hole. The distances ranges from 60 to 120 yards from the tee box. While rules and scoring are similar to the traditional golf game, with pars (three-kicks to the hole).
The ultimate goal is to reach the nineth-hole (par 27 for the short course). Unlike, traditional soccer participants are not allowed to wear cleated shoes.
John Madden, Duran's Activities Coordinator who now leads a monthly couple's
tournament league, said "the sport has become a great way for couples to get out and enjoy the time out."
"It's fun, not too strenuous, and allows folks who are both soccer players and golfers to merge their talents to compete in what many enjoy because of the mixture of the two sports."
The league held monthly, cost $29 per couple and includes a free beverage and use of ball. Various prizes including gift cards are awarded for best combined scores, individual scores, and closest to the pin shots.
"Now that we have added this option to our par three course it's possible to have a family out here where the Dad may be playing traditional golf, the kids Footgolf, and Mom might be playing Smash Golf- the golf/tennis hybrid introduced in 2015," said Duran Golf Pro, Matt Morrison. "It's all the same price; $13 for adults and $8 for kids."
Nicole Latner, Duran's Marketing and Events Coordinator, said "plans are now underway to offer corporate events, fundraisers, and birthday party packages for the new Footgolf platform."